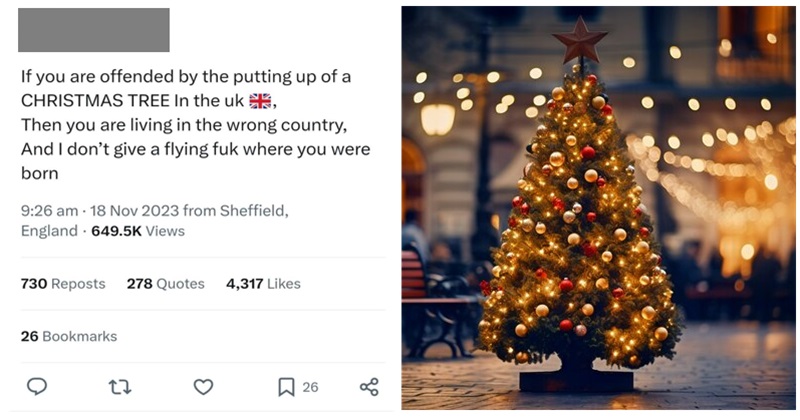 15 favourite festive responses to this angry post about the imaginary war on Christmas trees
Halloween is over, A Christmas Carol has been on TV, the Christmas stuff has been in the shops for weeks – including the piped festive music – and cities all over the UK have lit up their municipal decorations.
There only remained one more thing that needed to happen for the British Christmas season to be under way, and now it has …

That's right – someone has called out the imaginary War on Christmas, in this case Christmas trees, so we can let the wild rumpus start.
Despite Peter implying 'Lefties' and Sadiq Khan object to Christmas trees in his hours-long argument with the internet, people weren't convinced there was any evidence for the aggressive comment, and they weren't afraid to say so.
1.
What are you on about you ridiculous man?!

I live in a Muslim country. The Christmas trees are up.

Get a fucking passport and stop reading the daily mail.

— Desert Rose (@desertrose1969) November 19, 2023
2.
The creatures outside looked from parody to Brexiter, and from Brexiter to parody, and from parody to Brexiter again; but already it was impossible to say which was which. https://t.co/5NhXBjoSzV

— Otto English (@Otto_English) November 19, 2023
3.
Oh look, the hard right inventing more things that aren't happening to shout about!

I hope they're going to stand guard around Christmas trees. That'd be even funnier than the time they 'protected', for absolutely no reason, a statue of George Eliot https://t.co/ctlR1jEpCw

— Dr Louise Raw (@LouiseRawAuthor) November 18, 2023
4.
We're doing this again are we? https://t.co/eSIVEC3u9M pic.twitter.com/608W1M9A9G

— Mike (@MLKeaney) November 18, 2023
5.
Oh god. Now the Ham People are melting down over Christmas Trees. https://t.co/Mt0cqlqJ0Y

— Miffy (@miffythegamer) November 18, 2023
6.
If I pretend I am offended by Christmas Trees will they deport me to the EU?

— Christopher Bovey (@ADHD_BadBoy) November 19, 2023
7.
These days, they put you in prison if you put a Christmas tree up.

— Daniel Holland ॐ (@DannyDutch) November 19, 2023
8.
Of all the things that don't happen, this doesn't happen the most

— ⚫️Andy Symons (@homeslice68) November 18, 2023
9.
Who is this person who's hassling you about a Christmas Tree?
Is he in the room with us now?

— Larry Barker #FBPE (@Lazzard59) November 18, 2023
10.
Literally nobody is complaining about Christmas trees.

Why can't these people just have a chocolate orange and enjoy the season, instead of being miserable bastards every year? pic.twitter.com/5JbSS5HWzU

— ✨ Hunnybee (@LiLeiLou) November 19, 2023
11.
Ahhhh maaaate, how are you managing with your 7 bins and meat tax???

— Marcello Ruffini #FBPE (@MarcelloRuffini) November 19, 2023
12.
The annual tradition of a tragic gullible melts getting angry over fake stories about Christmas being cancelled just gets early and early each year https://t.co/swsL1dPTYq

— Selina j ⚒ (@OfSelina) November 19, 2023
13.
I see that 'Oh-God-They're-Trying-To-Ban-Christmas' season is upon us once more.

Happy outrage to all who celebrate. https://t.co/Ofoz9u52jx

— David Pattie (@DavidPattie) November 18, 2023
14.
I think people maybe get a bit miffed at folk that put them up at Halloween and shit? Is that what you mean Pedro? https://t.co/JpAwnCkWQr

— The Gordon Jackson Five (@mypalfootfoot7) November 19, 2023
15.
I don't recall it being mentioned in the bible that there were Christmas Trees in Bethlehem when Jesus was born.

— Graham Clair (@GrahamClair3) November 18, 2023
Wulfhelm posted one last piece of information.
Christmas trees are German. https://t.co/iul0v1nMBj

— WulfHelm (@Wulf_Helm) November 18, 2023
READ MORE
'Britain's Strictest Headmistress' has got the hump with the John Lewis Christmas ad and this is the only response you need
Image Freepik