The Captain Tom spa went viral after the family lost their planning appeal and the design got people all hot and bothered
Farwell then, the Captain Tom spa complex, after the late centurion fundraiser's daughter lost her planning application appeal to save the spa they built in their garden.
Hannah Ingam-Moore and her husband Colin, who have come under increasing scrutiny in recent months over their handling of the late fundraiser's legacy, have been given three months to demolish the structure.
We've already rounded up 14 of our favourite responses and also highlighted the extraordinarily good work done by the Metro headline writer here.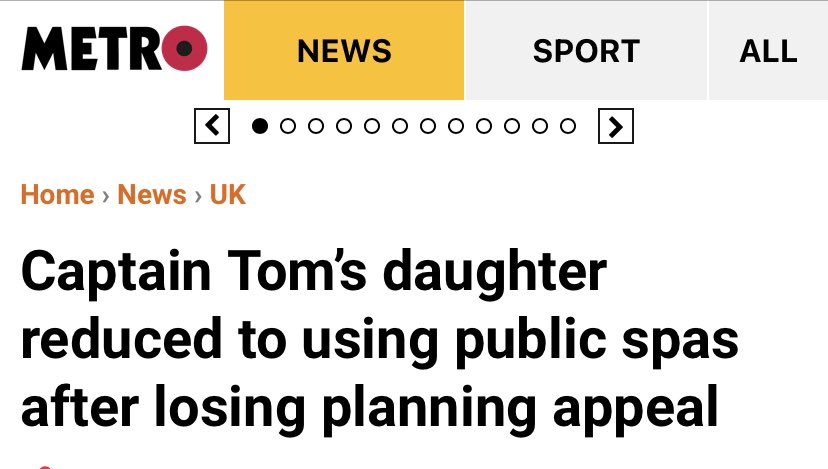 And we mention it again – again! – because some people have only just been taking a closer look at the garden building and, really, it is quite the thing.
Why is everyone talking about how horrible Captain Tom's daughter is, when the real criminal is the architect who designed her spa to look like a 1970s GP surgery? pic.twitter.com/k61YKJbCGG

— Kevin (@caoimhinof) November 7, 2023
And here are our favourite things people have been saying about it.
1.
It looks like somewhere they'd raid looking for trafficked fruit pickers x https://t.co/OMUCY33f5u

— Buckers (@deathofbuckley) November 7, 2023
2.
Have you seen the photos of what it looks like inside? pic.twitter.com/JCwY4XaOit

— Slarty Bartfast (@Poppy_yyyyyyyy) November 7, 2023
3.
I've never been in a prison, but it has that sort of vibe.

— Kevin (@caoimhinof) November 7, 2023
4.
The placement of that sofa thing facing the jacuzzi is very unsavoury. Like the scene of a deeply unhappy swingers party https://t.co/bOl12EKj1d pic.twitter.com/mxlH3618UL

— Nooruddean (@BeardedGenius) November 8, 2023
5.
Compare it to the house! pic.twitter.com/lgBVzLpTVD

— Kevin (@caoimhinof) November 7, 2023
6.
It looks like the house you build on The Sims 1 before you have any money.

— Midnight Melatonin (@flickkip) November 7, 2023
7.
She wanted a Spar, she got one

— Lez (@Lil_beethoven) November 7, 2023
8.
Someone said the Captain Tom memorial spa looked like it was designed in The Sims and I had to put that to the test https://t.co/POUJ3A1Vcg pic.twitter.com/pCkYi6jW09

— Alex Watson (@imalexwatson) November 7, 2023
9.
It was very clever of them to position it away from their manor house, so it's only unsightly for all the neighbours…

— James Neill  ≠ (@jneill) November 7, 2023
10.
The builder though… pic.twitter.com/fVdBqBQ4O7

— Herb Brubanter (@HBrubanter) November 7, 2023
11.
this is an amazing visual revelation because honestly i hadn't done any research and assumed people were fussing over a lay-z spa hot tub or like, a shed sauna situation. NOT AN ENTIRE RETIREMENT HOME BUNGALOW COMPLEX https://t.co/qE8miwLO0v

— Cardi BTEC (@amelia_perrin) November 7, 2023
12.
Is this adjacent to the budgens carpark, think I had my mmr done here in 1995 https://t.co/T5DbvlakQW

— charlotte (@charlotte_gggg) November 8, 2023
13.
Sims-ass building https://t.co/FDkiquecLc

— SDB ❤️ (@BunnyJugs) November 7, 2023
To conclude …
When the demolition team arrive at the Captain Tom spa, I hope they ask "So which of these buildings is the one that we're here to crush?" and each of the nearby buildings stands up and says "I'm spa to crush"

— Tom Freeman (@SnoozeInBrief) November 7, 2023
And this!
everything is terrible but Captain Tom's family have been ordered to demolish their spa pool so at least there's that

— dave ❄️ (@mrdavemacleod) November 7, 2023
Source @caoimhinof